Healthy Choices
Livin'Smart with Luby's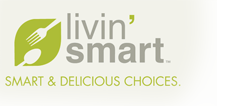 For over 65 years
Luby's Famous Fried Fish has been our #1 entrée. While we are certainly steeped in tradition, we are looking towards the future, with a culinary commitment to healthy-for-you dishes.
Our latest Livin'Smart menu highlights smarter, healthier choices for everyone to enjoy at Luby's. Livin'Smart is our dedication to provide guests with fresh, flavorful, and smart dining choices.
Grab a fork and spoon to start Livin'Smart!
Livin'Smart Menu