Restaurant Management
Get going on a great career at Luby's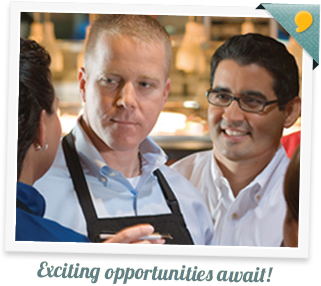 Are you looking for a career
that gives you the responsibility of running a million-dollar business, building and motivating a team of dedicated employees, developing and implementing strategy, and learning from some of the best in the business? Then you should consider Luby's Restaurant Management Development Program.
For over 65 years, Luby's has been training men and women to be successful restaurant managers. This training program is a combination of classroom instruction and hands-on learning, focusing on culinary, employee management, budgeting, guest service, and marketing skills.
To learn more about the Luby's Management Development Program,
Click here for more information
Since March of 2001, Chris and Harris Pappas, founders of the successful Pappas restaurant organization, have been at the helm of Luby's as Chief Executive Officer and Chief Operating Officer. Luby's managers regularly interact with Chris and Harris, providing those new to the business an opportunity to learn from some of the restaurant industry's most experienced and successful entrepreneurs.
Luby's, Inc. is an Equal Opportunity Employer. Our employment practices are in accord with the laws that prohibit discrimination due to race, color, religion, national origin, sex, age disability or other protected status.