Crew Members
Get going on a great career at Luby's
Are you looking for a full-time or part-time job
that will allow you to work in a friendly, fast-paced environment? Do you enjoy working with people? Are you interested to learn more about working in a restaurant? Luby's provides flexible schedules and opportunities for advancement within its hourly positions, including the possibility to moving up into management positions.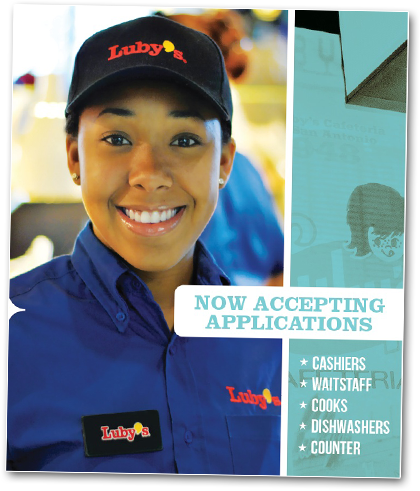 Hourly opportunities include:
Cashiers
Cooks
Counter Servers
Food Prep
Food to Go
Utility (Porters & Dishwashers)
Waitstaff
Hourly employees benefits for those that qualify:
401K
Half Priced meals
Optional Medical Plan(3 plans to choose from)
Optional Dental Plan
Optional Vision Plan
Optional Disability Plan
Optional Life Insurance
Optional Hospital Cash Plan
Prescription Discounts
Paid Vacation
Flexible Schedules
Advancement Opportunities
Competitive Wages
Paid Training
Bi-weekly paychecks
To learn more about hourly opportunities in our restaurants, please visit a location near you to talk to the manager and fill out an application. For a list of our locations,
please click here
.
Luby's, Inc. is an Equal Opportunity Employer. Our employment practices are in accord with the laws that prohibit discrimination due to race, color, religion, national origin, sex, age disability or other protected status.