Our History
A Family Tradition, Serving the community since 1947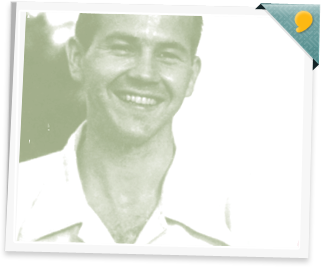 Over 65 years
ago, Bob Luby had a dream: To develop a chain of cafeterias that would provide good food, good service and reasonable prices.
Bob's vision was a product of his upbringing. In 1911, the year before Bob was born, his father, Harry Luby, started the New England Dairy Lunch Cafeteria in Springfield, Missouri. Eventually, Harry's small cafeteria business grew to include restaurants in Texas, Oklahoma and Louisiana. By 1927, at the age of 39, Harry Luby retired from active management. Bob, who had grown up in the business and loved it, was determined to enhance his father's principles and work ethic with his own new ideas and passion for serving top quality food in a welcoming atmosphere.
In 1947, Bob returned to Texas from his World War II service as an intelligence officer stationed in California. Determined and driven, Bob joined forces with his cousin Charles R. Johnston, and together they opened the first Luby's Cafeteria in San Antonio.
How We Started
It was thought to be an extremely risky venture since downtown San Antonio was deserted at night, and many people doubted servicemen just home from the war would accept standing in line for anything again. The skeptics were wrong – the 180-seat cafeteria was packed for both lunch and dinner.
And so the Luby's Cafeteria chain began. Over the next 11 years, Luby and Johnston continued to open new restaurants in Tyler, Harlingen, El Paso and Beaumont. An interesting challenge of their early expansion was not the availability of capital and land, but rather, the accessibility of well-trained managers capable of maintaining Luby's uncompromisingly high-quality standards.
Going Public
In 1959, with nine cafeterias in various locations, the San Antonio-based company incorporated under the name Cafeterias, Inc. It became a publicly held corporation in 1973, then changed its name to 1981 to Luby's Cafeterias, Inc. and joined the New York Stock Exchange the following year.
In 2001, two of America's most successful restaurateurs, Chris and Harris Pappas of Houston, joined the Luby's leadership team, continuing the company's commitment to high standard of excellence. The Pappas brothers each brought 30 years of restaurant experience to the organization, which included Harris' own experience working for Luby's as a young man in the early 1970s.